Giorgio Rovati
is an Italian guitarist six and seven string, teacher at the Modern Music Institute, Padovarte, Salti di Tono, Centro di studi Arké, Padova Musica.  Moreover is Solo Artist and the guitar player and founder of Centrica Prog-metal band (that, thanks to Musea-Records French record label, released its instrumental debut).
Giorgio Rovati graduated at the Lizard BMG-Ricordi Modern Music Academy with specialization in Hard-Rock & Heavy-Metal, later improved his skills through the study of Fusion-Jazz with the brilliant Alex Stornello at the Modern Music Institute.
He participated in several clinic and masterclasses held by some of the greatest exponents of the guitar scenes, such as: Frank Gambale, Steve Vai, Paul Gilbert, Greg Howe, Guthrie Govan, Carl Verheyen, Dave Hill, Bob Brozman, Giacomo Castellano, Massimo Varini, Michael Mellner, Alex Stornello, Billy Sheehan.
From 2015 Giorgio became Ninja Picks and Dean Markley Artist.
---
Website
---
YouTube Channel
https://www.youtube.com/sevenstrings777
---
Facebook Page
https://www.facebook.com/giorgiorovatimusic
---
Instagram
https://www.instagram.com/giorgiorovati/
---
GR Debut Album on Spotify
https://open.spotify.com/GRalbum
---
---
Music Albums (Full Length):
2014: "It's Time" – Giorgio Rovati Solo Album
Giorgio Rovati – Guitars (Centrica)
Alberto Rigoni – Bass (Twinspirits, Artist Solo)
Mauro Catellani (Alex De Rosso) – Bass on track 1
Carlo Rubini (Kismet) – Bass on track 8
Andrea Pavanello (Artist Solo, Centrica) – Keyboards on track 3
Marco Zago (Daniele Liverani) – Keyboards on track 7
Riccardo Merlini – Drums (Student of Mike Mangini, Mike Terrana, Thomas Lang, ecc)
---
2013: "Rocking the Pop" – Giorgio Rovati Solo Album
---
2008: "Centrica" – "Centrica" Prog-Metal Band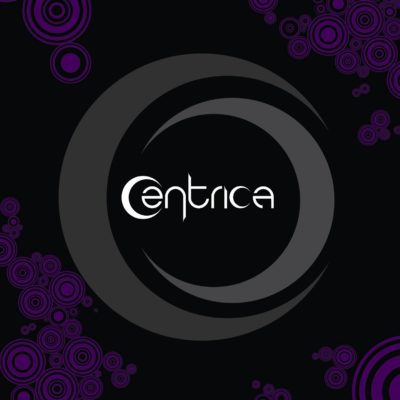 Andrea Pavanello (Keyboards)
Dario Ciccioni (Drums)
Alberto De Bortoli (Bass)
Giorgio Rovati (Guitars)
---
Music Teacher Certificates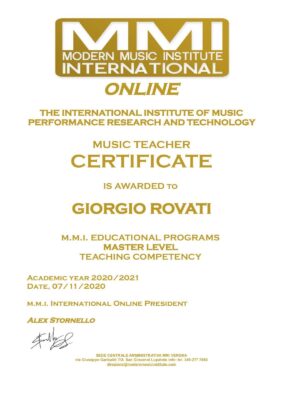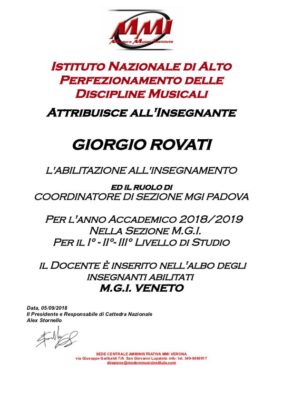 ---
Italian Review from "It's Time" album:
– RockHard – "IT'S TIME un lavoro vivamente consigliato tanto agli inguaribili estimatori dei virtuosismi più azzardati, quanto ai semplici fruitori di sano rock strumentale".
– METAL HAMMER – "Un disco progressive, strumentale, ottimamente suonato e prodotto, di rapida assimilazione e che mette al centro del proprio obiettivo l'ascoltatore e non chi lo suona: merce rarissima oggigiorno!"
– Rock-Metal-Essence – "It's Time appare dunque come un capitolo assolutamente riuscito della carriera di questo bravo chitarrista mancino, che lascia brillare in esso tutta la sua personalità e il suo carisma allo strumento. Mettendosi sullo stesso piano dei maestri del genere".
– Music Map – "It's Time" non presenta ripetizioni, e gli incantevoli assoli non sono mai esagerati o troppo frequenti, in modo da evitare virtuosismi che, dopo alcune decine di minuti, potrebbero risultare eccessivi."
– CHITARRE magazine – "Disco fantastico di prog, rock, a tratti metal… la fusion a questo ragazzo di Padova piace molto. Non abbiate paura! Acquistate It's Time di Giorgio Rovati con fiducia."
---
Watch Some videos:
---
Postal Address:
Giorgio Rovati
Via Vittorio Emanuele III, 72-2  35020 Codevigo (PD) ITALY
---
e-mail:
---
Phone:
+393332381053